Step 3: Closet Organizers:
This step is VERY important. To make the most of any closet space, you're going to need some organization gear. This will vary depending on your closet and drawer space and you'll probably want to buy several things to figure out what works best in your space and with your things. The things that I can't live without are my jewelry hanger, sweater hangers, shoe hangers and matching clothes hangers. I also love cloth boxes for things like scarves and belts.
Depending on your price range there are several places where you can look for closet organization (this stuff gets pretty expensive...but it's worth it, I promise).
Here are some of my favorite things at my favorite places: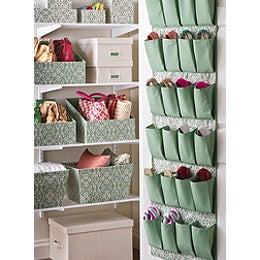 The mecca of closet organization is
The Container Store
. Here's an example of some of their closet organization offerings. They have lots of cute "series" of storage solutions so they all match! This one is called Firenze. This is probably what my heaven will look like. You can find EVERYTHING here and it's all pretty. Even better, they have closet organization specialists so you could just stop reading this blog post now and go there and get someone to totally makeover your space for you. For those of us not that fortunate (and I'm not) look at these options:
Target
- Check out this hanging purse organizer. Great space saver too! I don't have that many purses so I don't need one of these but maybe one day I'll have that many purses! Target has great hanging shelves, colored bins, modular sets, and storage boxes of all sizes. They often have special collections by designers too.
(the picture that should go here is a canvas handled hamper by Mainstays)
Walmart
- similar to Target but usually not as cute. I like these hampers because they're easy to move around! I use one hamper to hold donation clothes. These hampers fit nicely in closets as well as bathrooms and are very easy to tote to the laundry room!
TJ Maxx/Marshals/Homegoods
- Check out this adorable dresser someone found at Homegoods! This would be great in larger closets for your "unmentionables" or just for extra storage space in your bedroom. These stores are also great for patterned storage bins and jewelry holders (you never know what great stuff you'll find).
Bed Bath and Beyond
- These bags by Real Simple are fantastic for wool storage! They come with cedar inserts to keep the bugs away. I especially like the under the bed options as well as the label pocket so you know what's inside! Bed Bath and Beyond will always have what you need, and it will always be overpriced.
You may even need to add some extra bars or rip out everything and start from scratch and in that case I highly recommend using somewhere like Home Depot, Lowes, The Container Store, or a specialty closet designer like California Closets. Most of these retailers have programs where you can input your closet dimensions and build storage solutions from the ground up.
Here's what we're working with in our closet:
All plastic hangers like these except that they're white (except for the suit hangers I use for Russell's suits and jackets). I like my hangers to have the strap holders because they're much more convenient for sleeveless shirts, shirts with wide necks and dresses.
I highly recommend those new skinny hangers with the felt covered arms and metal hanger top like these from Bed Bath and Beyond by Real Simple. I think I will transition to these soon. They're great for small closets. My sister has them and they're the only reason that all of her clothes fit intoher small space.
2 hanging sweater shelves and 3 hanging shoe shelves: I use my sweater shelves for more than just hangers. They're great for making tshirts, shorts, and workout clothes easily accessible. Shoe shelves really help to maximize space and save you from piles of shoes in your floor.
1 over the door shoe hanger is used for shoes that are not worn as often. I also use one of the pockets to put the tags in that I use to monitor whether or not clothes are being worn (read comment on Step 1)
1 hanging jewelry bag. This one is from Bed Bath and Beyond and is made by Real Simple. I love it. There is a bottom portion that can be snapped off and rolled up for travel. This bag takes up minimal space and makes it really easy to see jewelry options. (Please forgive the poor photography- minimal light and minimal space).
8 cloth boxes are used for belts, purses and non-clothing items. I keep lots of toiletries in these bags from travel sized items to extra shaving cream. Our bathroom has NO STORAGE so these boxes are a must! These shelves are super-convenient for over-flow sweaters, hats, and bags.
Several plastic storage boxes with lids in varying sizes are kept on the upper shelves of the closets with off-season clothes as well as scarves. Ideally, I'd like to have scarves hung somewhere so that they don't get wrinkled but there's just no space!
Our closet system is wire and we have a mixture of shelves and hanging areas. You can design your own wire grid system
here
at ClosetMaid for $5.
Alright, that's it for Step 3! Step 4, the final step, coming soon!